At one point in our 10 years of marriage, my husband and I decided to make the temple a focal point in our family. As I reflect back on six temples that have made a deep impact on my life, I am reminded of the blessings the temple brings and hope that I can plant a seed in the heart of my young son.
Dedicated April 6, 1893. Iconic to me growing up in the Salt Lake valley, it was my first temple experience as a youth going to do baptisms for the dead. I felt special to be able to enter into this House of the Lord, and it was one of my first experiences of feeling the Spirit. Of course, I also have fond memories of walking Temple Square, attending the Tabernacle and Conference Center, and seeing the brilliant display of lights at Christmas time. These are special experiences that I've delighted in sharing with my husband and son.
Dedicated October 19, 1984. Although this wasn't my regular temple at the time, I chose the Dallas temple to receive my endowment because of its proximity to family members. In preparation for this experience, I remember the counsel given to me by my soon-to-be father-in-law: don't try to remember every detail of the endowment, but rather focus on what you feel. I remember feeling clean and pure and knowing that family is what is most important.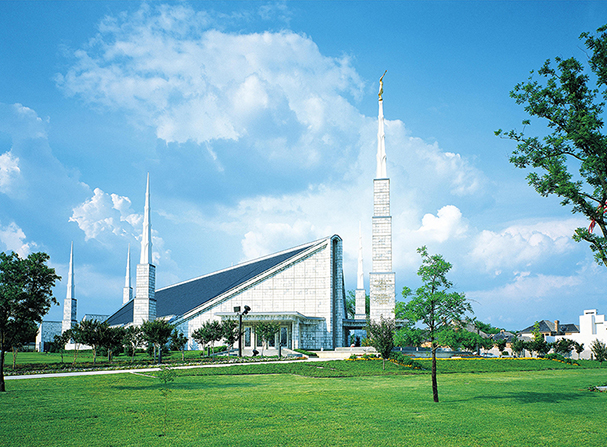 Dedicated May 22, 2005. This temple really holds my heart. I watched the progression of this temple from its announcement in 2001 until it became a fully operating temple in 2005. In preparation for the dedication, I helped the Youth in our stake learn dances for the cultural celebration they performed for President Hinckley. This is also where my husband and I were married and sealed for time and all eternity less than a year after its opening.
Dedicated April 28, 2002. One spring, before we had any children, my husband and I wanted to take a little trip for spring break. We decided to drive into Mexico and stay on the beach. As part of our trip, we made a special effort to get to Monterrey so that we could attend a session at the temple. Most people in the temple spoke Spanish and I spoke
only
English, but I still felt at home. At the October 1998 General Conference, President Gordon B. Hinckley announced the revelation to build smaller temples. This temple, as well as the San Antonio Temple, are products of this inspired revelation and serve as a testimony to me of how the Lord's work will be go forward to bless His children. Because of this trip, my husband and I decided to make it a family tradition that when we go on trips we will spend time at the local temple. This has been a special tradition and fun for our son as we have taken our picture in front of temples all across the country.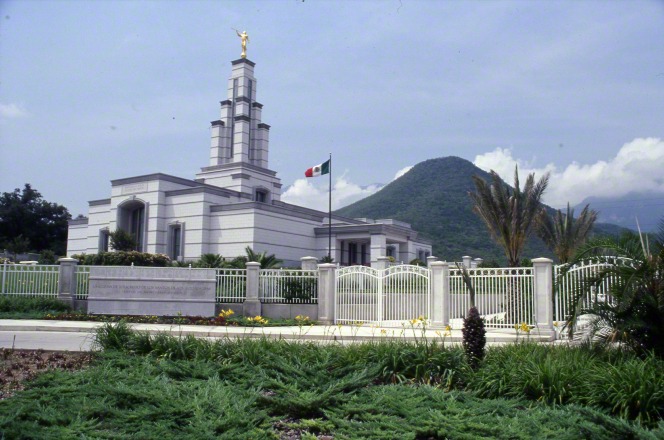 Dedicated October 9, 1994. This was our temple for three years when we lived in Clearwater, Florida. We were able to attend this temple quite often, and it is the one that our son has visited most frequently and has developed a lasting memory of. Although Orlando is filled with its famous symbol of Mickey Mouse, our memories are filled with the symbols that bring true and everlasting happiness.
Dedicated June 13, 2004. Currently, this is our local temple. The building shares space with a family history center, as well as a full-size and functioning chapel that is home to three wards. The Manhattan temple is a literal haven from the city – quiet, calm, and free of city noise and busyness. This serves as a constant reminder to me of the personal haven that all temples provide – bringing inner peace and stillness when life gets troublesome.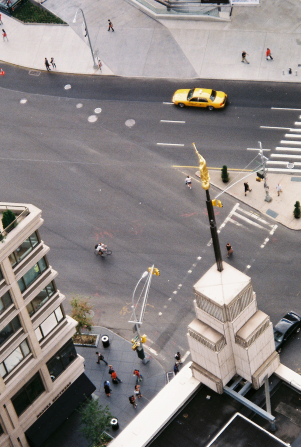 Jefra Rees is the wife of a loving husband and the mother of a young son with Sensory Processing Disorder. She holds a bachelor's degree in Child Development and also has a master's degree in Early Childhood Special Education. She has worked with children and families in a variety of settings, but her greatest work is that which is done in her own home.